Ethernet Shield Datalogger
Log data from three analog sensors to an SD card.
This example shows how to use the SD card Library to log data from three analog sensors to a SD card. Please click here for more information on the SD library.
Hardware Required
Arduino board
Ethernet Shield
3 10k ohm potentiometers
hook-up wires
breadboard
Formatted SD card
Circuit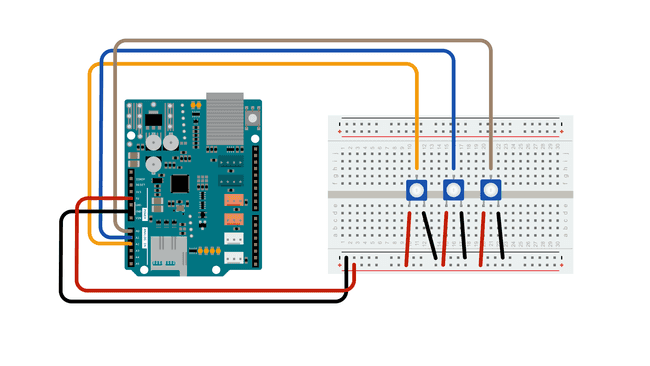 The Arduino board has to be connected to the Ethernet Shield. The three potentiometers may be substituted with other analog sensors, to be wired according to their interfacing techniques.
Schematics
Code
The code below is configured for use with an Ethernet shield, which has an onboard SD slot. In the
setup

(

)
, call
SD

.

begin

(

)
, naming pin 4 as the CS pin. This pin varies depending on the make of shield or board.
In the
loop

(

)
, a String is created to hold the information from three analog sensors. The code iterates through the sensors, adding their data to the string.
Next, the file on the SD card is opened by calling
SD

.

open

(

)
. Once available, the data is written to the card when
dataFile

.

println

(

)
is used. The file must be closed with
dataFile

.

close

(

)
to save the information.
42

const 

int

 chipSelect 

=

 

10

;

54

  

Serial

.

print

(

"Initializing SD card..."

)

;

56

  

if

 

(

!

SD

.

begin

(

chipSelect

)

)

 

{

58

    

Serial

.

println

(

"initialization failed. Things to check:"

)

;

60

    

Serial

.

println

(

"1. is a card inserted?"

)

;

62

    

Serial

.

println

(

"2. is your wiring correct?"

)

;

64

    

Serial

.

println

(

"3. did you change the chipSelect pin to match your shield or module?"

)

;

66

    

Serial

.

println

(

"Note: press reset or reopen this serial monitor after fixing your issue!"

)

;

72

  

Serial

.

println

(

"initialization done."

)

;

79

  

String

 dataString 

=

 

""

;

83

  

for

 

(

int

 analogPin 

=

 

0

;

 analogPin 

<

 

3

;

 analogPin

++

)

 

{

85

    

int

 sensor 

=

 

analogRead

(

analogPin

)

;

87

    dataString 

+=

 

String

(

sensor

)

;

101

  

File

 dataFile 

=

 

SD

.

open

(

"datalog.txt"

,

 FILE_WRITE

)

;

107

    dataFile

.

println

(

dataString

)

;

113

    

Serial

.

println

(

dataString

)

;

121

    

Serial

.

println

(

"error opening datalog.txt"

)

;
Last revision 2015/08/17 by SM