Ethernet Shield Barometric Pressure Web Server
Outputs the values from a barometric pressure sensor as a web page.
This example shows how to use SPI communications to read data from a SCP1000 Barometric Pressure sensor, and how to then post that data to the web by using your Arduino / Ethernet Shield combo as a simple web server. Using the Ethernet library, your device will be able to answer HTTP requests by responding with just enough HTML for a browser to display the temperature and barometric pressure values outputted by your sensor. After completing your circuit and uploading the example code below, simply navigate to your Ethernet shield's IP address, in a browser, to see this information.
See the Barometric Pressure Sensor example for more on how the sensor works.
Hardware Required
Circuit
Your Barometric Pressure sensor will be attached to pins 6,7, and the SPI pins of your Arduino / Ethernet shield combo, and powered via your device's 3.3 volt output. Connect the DRDY (Data Ready) pin on your sensor to digital pin 6 on your combo, and the CSB pin (Chip Select) to digital pin 7. Your sensor's COPI (Controller Out Periheral In), MISO (Controller In Periheral Out), and SCK (SPI clock input) pins should then be connected to the SPI pins on your Arduino board/shield. The SPI pin numbers differ depending on which Arduino board you're using and are listed in the SPI reference page. Make sure that the two share a common ground.
After wiring your sensor, your shield should be connected to a network with an Ethernet cable. You will need to change the network settings in the program to correspond to your network.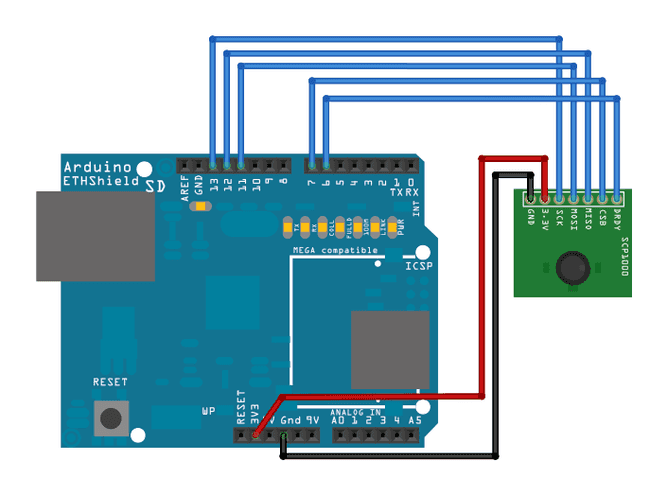 Image developed using Fritzing. For more circuit examples, see the Fritzing project page
In the above image, the Arduino board would be stacked below the Ethernet shield.
Schematic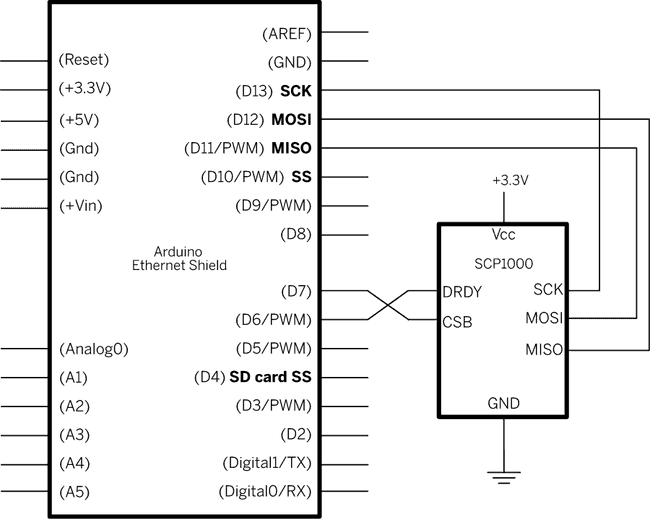 Code
47

  

0xDE

,

 

0xAD

,

 

0xBE

,

 

0xEF

,

 

0xFE

,

 

0xED

51

IPAddress

 

ip

(

192

,

 

168

,

 

1

,

 

20

)

;

57

EthernetServer

 

server

(

80

)

;

61

const 

int

 PRESSURE 

=

 

0x1F

;

      

63

const 

int

 PRESSURE_LSB 

=

 

0x20

;

  

65

const 

int

 TEMPERATURE 

=

 

0x21

;

   

70

const 

int

 dataReadyPin 

=

 

6

;

72

const 

int

 chipSelectPin 

=

 

7

;

74

float temperature 

=

 

0.0

;

76

long

 lastReadingTime 

=

 

0

;

100

  

Ethernet

.

begin

(

mac

,

 ip

)

;

114

  

if

 

(

Ethernet

.

hardwareStatus

(

)

 

==

 EthernetNoHardware

)

 

{

116

    

Serial

.

println

(

"Ethernet shield was not found.  Sorry, can't run without hardware. :("

)

;

126

  

if

 

(

Ethernet

.

linkStatus

(

)

 

==

 LinkOFF

)

 

{

128

    

Serial

.

println

(

"Ethernet cable is not connected."

)

;

138

  

pinMode

(

dataReadyPin

,

 

INPUT

)

;

140

  

pinMode

(

chipSelectPin

,

 

OUTPUT

)

;

144

  

writeRegister

(

0x02

,

 

0x2D

)

;

146

  

writeRegister

(

0x01

,

 

0x03

)

;

148

  

writeRegister

(

0x03

,

 

0x02

)

;

156

  

writeRegister

(

0x03

,

 

0x0A

)

;

164

  

if

 

(

millis

(

)

 

-

 lastReadingTime 

>

 

1000

)

 

{

170

    

if

 

(

digitalRead

(

dataReadyPin

)

 

==

 

HIGH

)

 

{

176

      lastReadingTime 

=

 

millis

(

)

;

184

  

listenForEthernetClients

(

)

;

189

  

Serial

.

println

(

"Getting reading"

)

;

193

  

int

 tempData 

=

 

readRegister

(

0x21

,

 

2

)

;

197

  temperature 

=

 

(

float

)

tempData 

/

 

20.0

;

201

  

byte

  pressureDataHigh 

=

 

readRegister

(

0x1F

,

 

1

)

;

203

  pressureDataHigh 

&=

 

0b00000111

;

 

207

  unsigned 

int

 pressureDataLow 

=

 

readRegister

(

0x20

,

 

2

)

;

211

  pressure 

=

 

(

(

pressureDataHigh 

<<

 

16

)

 

|

 pressureDataLow

)

 

/

 

4

;

213

  

Serial

.

print

(

"Temperature: "

)

;

215

  

Serial

.

print

(

temperature

)

;

217

  

Serial

.

println

(

" degrees C"

)

;

219

  

Serial

.

print

(

"Pressure: "

 

+

 

String

(

pressure

)

)

;

221

  

Serial

.

println

(

" Pa"

)

;

224

void

 

listenForEthernetClients

(

)

 

{

228

  

EthernetClient

 client 

=

 server

.

available

(

)

;

232

    

Serial

.

println

(

"Got a client"

)

;

236

    

bool

 currentLineIsBlank 

=

 

true

;

238

    

while

 

(

client

.

connected

(

)

)

 

{

240

      

if

 

(

client

.

available

(

)

)

 

{

242

        char c 

=

 client

.

read

(

)

;

250

        

if

 

(

c 

==

 

'\n'

 

&&

 currentLineIsBlank

)

 

{

254

          client

.

println

(

"HTTP/1.1 200 OK"

)

;

256

          client

.

println

(

"Content-Type: text/html"

)

;

262

          client

.

print

(

"Temperature: "

)

;

264

          client

.

print

(

temperature

)

;

266

          client

.

print

(

" degrees C"

)

;

268

          client

.

println

(

"<br />"

)

;

270

          client

.

print

(

"Pressure: "

 

+

 

String

(

pressure

)

)

;

274

          client

.

println

(

"<br />"

)

;

284

          currentLineIsBlank 

=

 

true

;

286

        

}

 

else

 

if

 

(

c 

!=

 

'\r'

)

 

{

290

          currentLineIsBlank 

=

 

false

;

310

void

 

writeRegister

(

byte

 registerName

,

 

byte

 registerValue

)

 

{

320

  registerName 

|=

 

0b00000010

;

 

324

  

digitalWrite

(

chipSelectPin

,

 

LOW

)

;

326

  

SPI

.

transfer

(

registerName

)

;

 

328

  

SPI

.

transfer

(

registerValue

)

;

 

332

  

digitalWrite

(

chipSelectPin

,

 

HIGH

)

;

336

unsigned 

int

 

readRegister

(

byte

 registerName

,

 

int

 numBytes

)

 

{

340

  unsigned 

int

 result 

=

 

0

;

   

350

  registerName 

&=

 

0b11111100

;

 

354

  

digitalWrite

(

chipSelectPin

,

 

LOW

)

;

358

  

SPI

.

transfer

(

registerName

)

;

362

  inByte 

=

 

SPI

.

transfer

(

0x00

)

;

372

    result 

=

 inByte 

<<

 

8

;

374

    inByte 

=

 

SPI

.

transfer

(

0x00

)

;

376

    result 

=

 result 

|

 inByte

;

382

  

digitalWrite

(

chipSelectPin

,

 

HIGH

)

;
Last revision 2018/09/07 by SM