Barometric Pressure Sensor (SPI)
Read air pressure and temperature from a sensor using the SPI protocol.
Last revision 2018/05/17 by SM
This example shows how to use the SPI (Serial Peripheral Interface) Communications Library to read data from a SCP1000 Barometric Pressure sensor.
Hardware Required
Arduino board
SCP1000 Pressure Sensor Breakout Board
hook-up wires
Circuit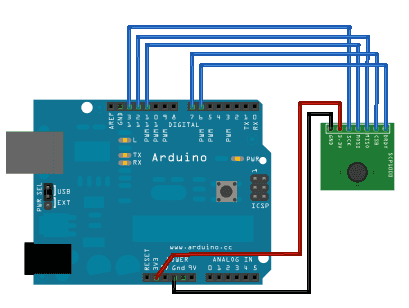 Schematic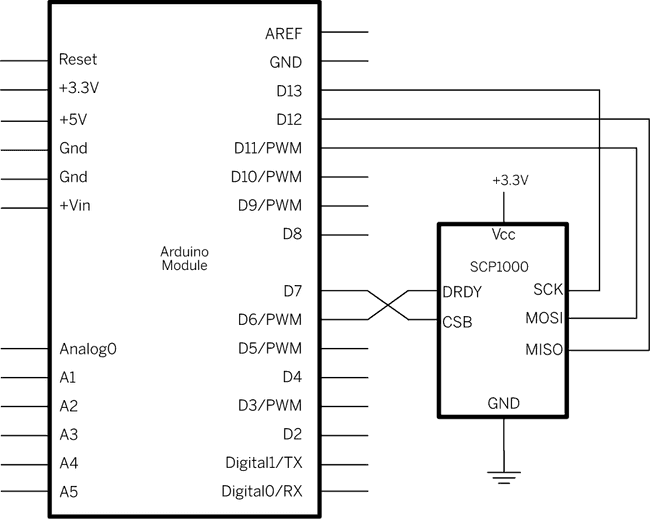 The SCP1000 barometric pressure sensor can read both air presure and temperature and report them via the SPI connection. For details of the control registers, see the SCP1000 data sheet.
Code
The code below starts out by setting the SCP1000's configuration registers in the
setup

(

)
. In the main loop, it sets the sensor to read in high resolution mode, meaning that it will return a 19-bit value, for the pressure reading, and 16 bits for the temperature. The actual reading in degrees Celsius is the 16-bit result divided by 20.
Then it reads the temperature's two bytes. Once it's got the temperature, it reads the pressure in two parts. First it reads the highest three bits, then the lower 16 bits. It combines these two into one single long integer by bit shifting the high bits then using a bitwise OR to combine them with the lower 16 bits. The actual pressure in Pascal is the 19-bit result divide by 4.
44

const 

int

 PRESSURE 

=

 

0x1F

;

      

46

const 

int

 PRESSURE_LSB 

=

 

0x20

;

  

48

const 

int

 TEMPERATURE 

=

 

0x21

;

   

50

const 

byte

 READ 

=

 

0b11111100

;

     

52

const 

byte

 WRITE 

=

 

0b00000010

;

   

57

const 

int

 dataReadyPin 

=

 

6

;

59

const 

int

 chipSelectPin 

=

 

7

;

71

  

pinMode

(

dataReadyPin

,

 

INPUT

)

;

73

  

pinMode

(

chipSelectPin

,

 

OUTPUT

)

;

77

  

writeRegister

(

0x02

,

 

0x2D

)

;

79

  

writeRegister

(

0x01

,

 

0x03

)

;

81

  

writeRegister

(

0x03

,

 

0x02

)

;

92

  

writeRegister

(

0x03

,

 

0x0A

)

;

96

  

if

 

(

digitalRead

(

dataReadyPin

)

 

==

 

HIGH

)

 

{

100

    

int

 tempData 

=

 

readRegister

(

0x21

,

 

2

)

;

104

    float realTemp 

=

 

(

float

)

tempData 

/

 

20.0

;

106

    

Serial

.

print

(

"Temp[C]="

)

;

108

    

Serial

.

print

(

realTemp

)

;

112

    

byte

  pressure_data_high 

=

 

readRegister

(

0x1F

,

 

1

)

;

114

    pressure_data_high 

&=

 

0b00000111

;

 

118

    unsigned 

int

 pressure_data_low 

=

 

readRegister

(

0x20

,

 

2

)

;

122

    

long

 pressure 

=

 

(

(

pressure_data_high 

<<

 

16

)

 

|

 pressure_data_low

)

 

/

 

4

;

126

    

Serial

.

println

(

"\tPressure [Pa]="

 

+

 

String

(

pressure

)

)

;

132

unsigned 

int

 

readRegister

(

byte

 thisRegister

,

 

int

 bytesToRead

)

 

{

136

  unsigned 

int

 result 

=

 

0

;

   

138

  

Serial

.

print

(

thisRegister

,

 BIN

)

;

146

  thisRegister 

=

 thisRegister 

<<

 

2

;

150

  

byte

 dataToSend 

=

 thisRegister 

&

 READ

;

152

  

Serial

.

println

(

thisRegister

,

 BIN

)

;

156

  

digitalWrite

(

chipSelectPin

,

 

LOW

)

;

160

  

SPI

.

transfer

(

dataToSend

)

;

164

  result 

=

 

SPI

.

transfer

(

0x00

)

;

172

  

if

 

(

bytesToRead 

>

 

0

)

 

{

176

    result 

=

 result 

<<

 

8

;

178

    inByte 

=

 

SPI

.

transfer

(

0x00

)

;

182

    result 

=

 result 

|

 inByte

;

192

  

digitalWrite

(

chipSelectPin

,

 

HIGH

)

;

201

void

 

writeRegister

(

byte

 thisRegister

,

 

byte

 thisValue

)

 

{

207

  thisRegister 

=

 thisRegister 

<<

 

2

;

211

  

byte

 dataToSend 

=

 thisRegister 

|

 WRITE

;

215

  

digitalWrite

(

chipSelectPin

,

 

LOW

)

;

217

  

SPI

.

transfer

(

dataToSend

)

;

 

219

  

SPI

.

transfer

(

thisValue

)

;

  

223

  

digitalWrite

(

chipSelectPin

,

 

HIGH

)

;