Shield - MEGA Proto KIT Rev3
Shield - MEGA Proto KIT Rev3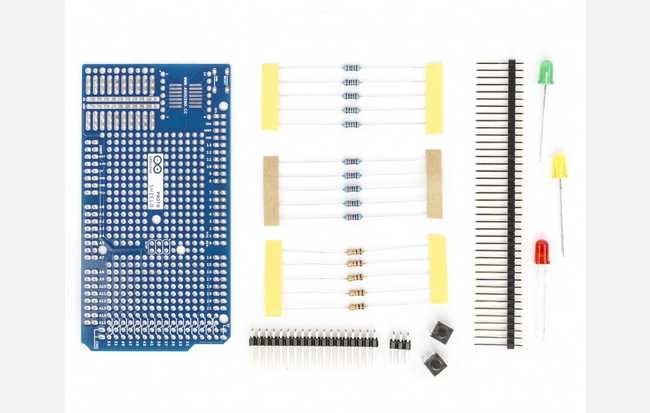 Base kit to extend your Arduino MEGA with your own wired circuit. The kit is composed from:
1x MEGA Proto shield Rev3 bare PCB
1x 40 way male 0.1" strip with long terminals
1x 18x2 way male 0.1" strip
2x pushbuttons
5x 220 Ohm resistors
5x 1K Ohm resistors
5x 10K Ohm resistors
3x LEDs
Arduino MEGA Board (not included)
Contribute to Arduino
Join the community and suggest improvements to this article via GitHub. Make sure to read out contribution policy before making your pull request.
Missing something?
Check out our store and get what you need to follow this tutorial.
Suggest Changes
The content on docs.arduino.cc is facilitated through a public GitHub repository. You can read more on how to contribute in the contribution policy.