Arduino Proto Extension Kit
Base kit to extend your Arduino with your own wired circuit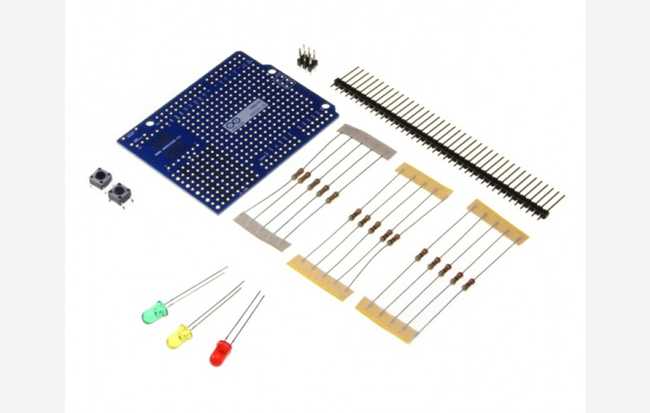 Features & Benefits of the Proto Shield
Connections for all Arduino I/O pins
Space for through-hole and surface mount ICs
Components can be soldered to the shield (a solderless breadboard is needed for non-soldered prototyping)
Proto Shield Kit Contents
1 x straight single line pinhead connector (40 x 1)
1 x straight single line pinhead connector (3 x 2)
2 x PCB pushbuttons
3 x LEDs (1 Red, 1 Yellow, 1 Green)
5 x 10 kiloohm resistors (1 to 4 W)
5 x 220 ohm resistors (1 to 4 W)
5 x 1 kiloohm resistor (1 to 4 W)
Contribute to Arduino
Join the community and suggest improvements to this article via GitHub. Make sure to read out contribution policy before making your pull request.
Missing something?
Check out our store and get what you need to follow this tutorial.
Suggest Changes
The content on docs.arduino.cc is facilitated through a public GitHub repository. You can read more on how to contribute in the contribution policy.