LilyPad Arduino Main Board
The LilyPad Arduino is designed for e-textiles and wearables projects. It can be sewn to fabric and similarly mounted power supplies, sensors and actuators with conductive thread.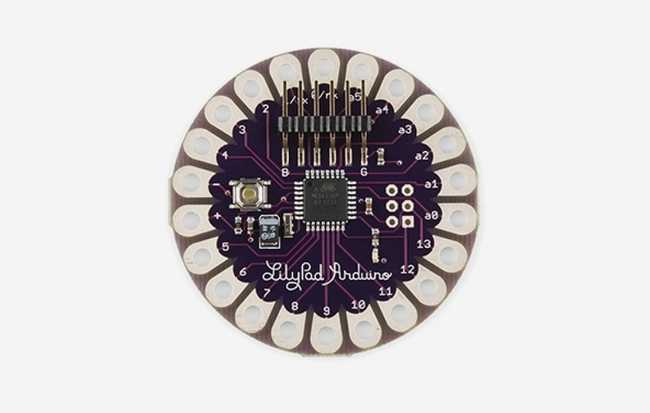 The LilyPad Arduino Main Board is based on the ATmega168V (the low-power version of the ATmega168) or the ATmega328V. The LilyPad Arduino was designed and developed by Leah Buechley and SparkFun Electronics.
You can find your board warranty information here.
Getting Started
In the Getting Started section, you can find all the information you need to configure your board, use the Arduino Software (IDE), and start to tinker with coding and electronics. SparkFun Electronics has a range of accessories for use with the LilyPad Arduino.
Need Help?
Tech Specs
| | |
| --- | --- |
| Microcontroller | ATmega168 or ATmega328V |
| Operating Voltage | 2.7-5.5 V |
| Input Voltage | 2.7-5.5 V |
| Digital I/O Pins | 14 |
| PWM Channels | 6 |
| Analog Input Channels | 6 |
| DC Current per I/O Pin | 40 mA |
| Flash Memory | 16 KB (of which 2 KB used by bootloader) |
| SRAM | 1 KB |
| EEPROM | 512 bytes |
| Clock Speed | 8 MHz |
Warning: Don't power the LilyPad Arduino with more than 5.5 volts, or plug the power in backwards, you'll kill it.
Contribute to Arduino
Join the community and suggest improvements to this article via GitHub. Make sure to read out contribution policy before making your pull request.
Missing something?
Check out our store and get what you need to follow this tutorial.