WiFi Web Client
Connect to a remote webserver.
This example shows you how to make a HTTP request using a WiFi shield. It returns a Google search for the term "Arduino". The results of this search are viewable as HTML through your Arduino Software (IDE) serial window.
This example is written for a network using WPA encryption. For WEP or WPA, change the Wifi.begin() call accordingly.
Hardware Required
Circuit
The WiFi shield uses pins 10, 11, 12, and 13 for the SPI connection to the HDG104 module. Digital pin 4 is used to control the chip select pin on the SD card.
You should have access to a 802.11b/g wireless network that connects to the internet for this example. You will need to change the network settings in the sketch to correspond to your particular networks SSID.
For networks using WPA/WPA2 Personal encryption, you need the SSID and password. The shield will not connect to networks using WPA2 Enterprise encryption.
WEP network passwords are hexadecimal strings known as keys. A WEP network can have 4 different keys; each key is assigned a "Key Index" value. For WEP encrypted networks, you need the SSID, the key, and key number.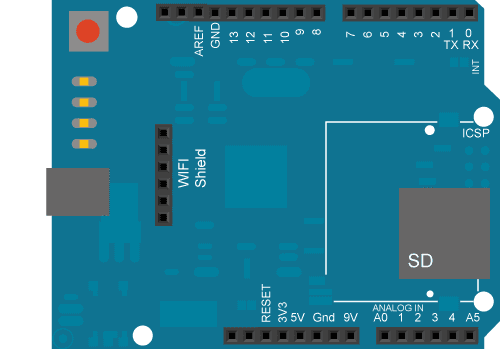 image developed using Fritzing. For more circuit examples, see the Fritzing project page
In the above image, the Arduino board would be stacked below the WiFi shield.
Code
34

char ssid

[

]

 

=

 

"yourNetwork"

;

 

35

char pass

[

]

 

=

 

"secretPassword"

;

    

38

int

 status 

=

 WL_IDLE_STATUS

;

42

char server

[

]

 

=

 

"www.google.com"

;

    

64

  

if

 

(

WiFi

.

status

(

)

 

==

 WL_NO_SHIELD

)

 

{

66

    

Serial

.

println

(

"WiFi shield not present"

)

;

74

  

String

 fv 

=

 

WiFi

.

firmwareVersion

(

)

;

78

    

Serial

.

println

(

"Please upgrade the firmware"

)

;

84

  

while

 

(

status 

!=

 WL_CONNECTED

)

 

{

86

    

Serial

.

print

(

"Attempting to connect to SSID: "

)

;

92

    status 

=

 

WiFi

.

begin

(

ssid

,

 pass

)

;

100

  

Serial

.

println

(

"Connected to wifi"

)

;

104

  

Serial

.

println

(

"\nStarting connection to server..."

)

;

108

  

if

 

(

client

.

connect

(

server

,

 

80

)

)

 

{

110

    

Serial

.

println

(

"connected to server"

)

;

114

    client

.

println

(

"GET /search?q=arduino HTTP/1.1"

)

;

116

    client

.

println

(

"Host: www.google.com"

)

;

118

    client

.

println

(

"Connection: close"

)

;

131

  

while

 

(

client

.

available

(

)

)

 

{

133

    char c 

=

 client

.

read

(

)

;

141

  

if

 

(

!

client

.

connected

(

)

)

 

{

145

    

Serial

.

println

(

"disconnecting from server."

)

;

156

void

 

printWifiStatus

(

)

 

{

160

  

Serial

.

print

(

"SSID: "

)

;

162

  

Serial

.

println

(

WiFi

.

SSID

(

)

)

;

166

  

IPAddress

 ip 

=

 

WiFi

.

localIP

(

)

;

168

  

Serial

.

print

(

"IP Address: "

)

;

174

  

long

 rssi 

=

 

WiFi

.

RSSI

(

)

;

176

  

Serial

.

print

(

"signal strength (RSSI):"

)

;

180

  

Serial

.

println

(

" dBm"

)

;
Last revision 2018/08/23 by SM