RobotPictureBrowser
Want to use your own images? This is how.
Picture Browser
You can make your own gallery/picture show with help of the Robot. Put some pictures in the SD card, start the sketch, and you can see them showing up on the LCD. Use left and right button on the D-pad to go the previous or next image. Press up or down to enter the "tilt navigation" mode.
Hardware Required
Instruction
Upload the example. You can keep the USB plugged in for power.

After the starting screen, you will see some instructions about the sketch.

A picture from the gallery will show up on the screen.

Press left/right/middle to navigate through the pictures

Press up/down to change the mode, you'll see the current mode showing up on top of the screen.

In tilt control mode, rotate your robot to navigate the gallery.

If you want to add your own pictures, make them 128*160, 24-bit bmp. Name them as "PicN.bmp" (where N is a number 1-9) and copy them onto the sd card.

The program only supports 10 pictures, Pic0.bmp to Pic9.bmp. Want to add more? Improve the program yourself!
Try it out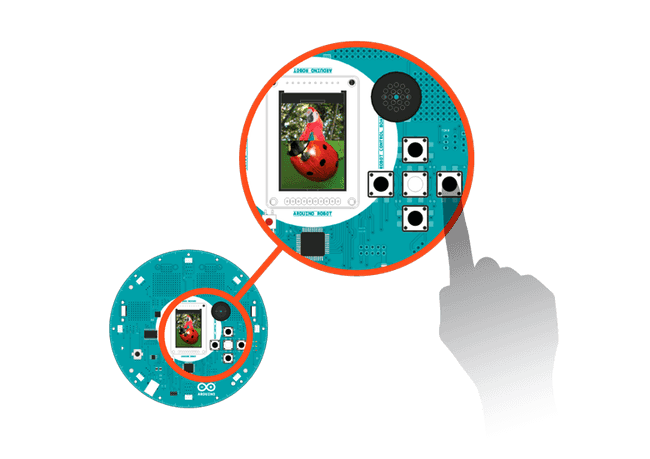 You can change the picture navigation mode by pressing the down button and tilt the robot to check the next picture.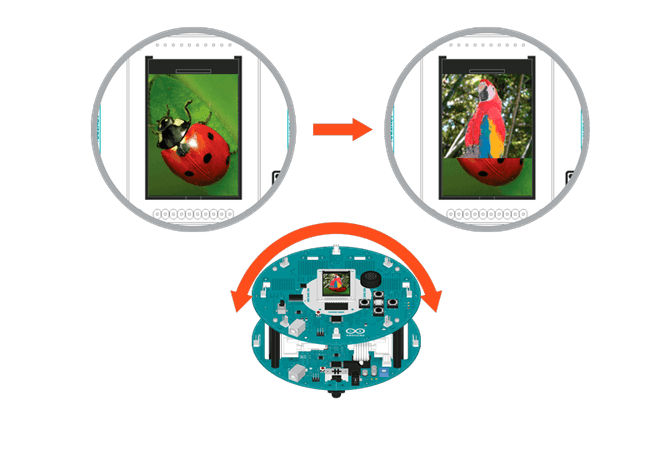 Code
49

#

include

 

<ArduinoRobot.h>

 

52

const 

int

 NUM_PICS 

=

 

4

;

  

56

const 

int

 CONTROL_MODE_KEY 

=

 

0

;

58

const 

int

 CONTROL_MODE_COMPASS 

=

 

1

;

60

char 

buffer

[

]

 

=

 

"pic1.bmp"

;

  

65

char modeNames

[

]

[

9

]

 

=

 

{

 

"keyboard"

,

 

"tilt    "

 

}

;

83

  Robot

.

drawBMP

(

"init3.bmp"

,

 

0

,

 

0

)

;

87

  Robot

.

stroke

(

0

,

 

0

,

 

0

)

;

89

  Robot

.

text

(

"The gallery\n\n has 2 modes, in\n keyboard mode, L/R\n key for switching\n pictures, U/D key\n for changing modes"

,

 

5

,

 

5

)

;

95

  Robot

.

drawBMP

(

"pb.bmp"

,

 

0

,

 

0

)

;

97

  Robot

.

text

(

"In tilt mode,\n quickly tilt the\n robot to switch\n pictures"

,

 

5

,

 

5

)

;

106

  Robot

.

drawBMP

(

buffer

,

 

0

,

 

0

)

;

 

112

    

case

 CONTROL_MODE_COMPASS

:

118

    

case

 CONTROL_MODE_KEY

:

129

void

 

keyboardControl

(

)

 

{

135

    

int

 

keyPressed

 

=

 Robot

.

keyboardRead

(

)

;

 

137

    

switch

 

(

keyPressed

)

 

{

153

        

if

 

(

++

i 

>

 NUM_PICS

)

 

{

179

void

 

compassControl

(

int

 change

)

 

{

187

    

int

 oldV 

=

 Robot

.

compassRead

(

)

;

191

    

int

 diff 

=

 Robot

.

compassRead

(

)

 

-

 oldV

;

197

    

}

 

else

 

if

 

(

diff 

<

 

-

180

)

 

{

203

    

if

 

(

abs

(

diff

)

 

>

 change

)

 

{

205

      

if

 

(

++

i 

>

 NUM_PICS

)

 

{

217

    

int

 

keyPressed

 

=

 Robot

.

keyboardRead

(

)

;

219

    

switch

 

(

keyPressed

)

 

{

241

void

 

changeMode

(

int

 changeDir

)

 

{

251

  

}

 

else

 

if

 

(

mode 

>

 

1

)

 

{

259

  Robot

.

fill

(

255

,

 

255

,

 

255

)

;

261

  Robot

.

stroke

(

255

,

 

255

,

 

255

)

;

263

  Robot

.

rect

(

0

,

 

0

,

 

128

,

 

12

)

;

265

  Robot

.

stroke

(

0

,

 

0

,

 

0

)

;

267

  Robot

.

text

(

"Control:"

,

 

2

,

 

2

)

;

269

  Robot

.

text

(

modeNames

[

mode

]

,

 

52

,

 

2

)

;