EsploraKart
Use the Esplora as a controller to play a kart racing game.
Esplora Kart
This example demonstrates how to turn your Esplora into a customized computer game pad. It uses the analog joystick and the four switches as inputs to a video game. The Esplora will appear to the computer as a standard keyboard, the computer will see joystick movement and button presses as keystrokes.
The configuration chosen in this example is suitable for SuperTuxKart, an open-source racing game, available for Windows, OSX, and Linux. It can be downloaded from http://supertuxkart.sourceforge.net/ .
Hardware Required
Circuit
Only your Arduino Esplora is needed for this example. Connect the Esplora to your computer with a USB cable.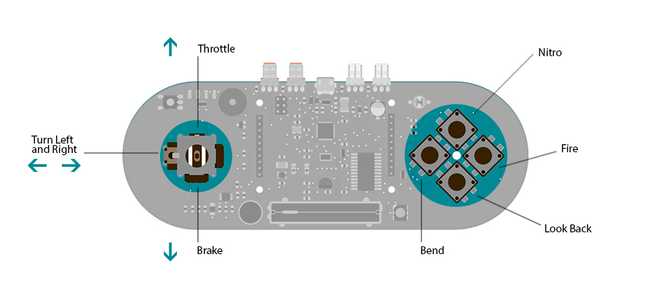 Code
The default keys to play with the SuperTuxKart game are:
| command | key |
| --- | --- |
| Throttle | KEY_UP_ARROW |
| Brake | KEY_DOWN_ARROW |
| Turn right | KEY_RIGHT_ARROW |
| Turn Left | KEY_LEFT_ARROW |
| Fire | SPACE_BAR |
| Bend | V |
| Nitro | N |
| Look back | B |
You need to map these keyboard keystrokes to the available inputs on your Esplora board. To handle the eight different buttons, you'll use arrays, ordered lists of variables with a fixed size. Each array has an index (counting from 0) to keep track of the position you're reading in the array, and each position can contain a number.
This code uses three different arrays: one for the buttons you'll read, a second to hold the current state of the buttons, and a third to hold the keystrokes associated with each button.
The Esplora has the ability to appear to a connected computer as a USB keyboard, so when you press the buttons and move the joystick, it's just like pressing keys on your keyboard.
The for() loop checks the state of all the buttons and the joystick. If the button's state has changed, then the corresponding keypress or release is sent to the computer. See the keyboard library reference for more information on using the Esplora as a keyboard or mouse.
77

const 

byte

 buttons

[

]

 

=

 

{

112

const char keystrokes

[

]

 

=

 

{

156

  

for

 

(

byte

 thisButton 

=

 

0

;

 thisButton 

<

 

8

;

 thisButton

++

)

 

{

158

    

bool

 lastState 

=

 buttonStates

[

thisButton

]

;

160

    

bool

 newState 

=

 

Esplora

.

readButton

(

buttons

[

thisButton

]

)

;

162

    

if

 

(

lastState 

!=

 newState

)

 

{

 

174

      

if

 

(

newState 

==

 PRESSED

)

 

{

176

        

Keyboard

.

press

(

keystrokes

[

thisButton

]

)

;

178

      

}

 

else

 

if

 

(

newState 

==

 RELEASED

)

 

{

180

        

Keyboard

.

release

(

keystrokes

[

thisButton

]

)

;

188

    buttonStates

[

thisButton

]

 

=

 newState

;